Na'Nouska Passia de Teufelsort
(called Passia)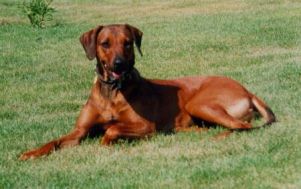 About Passia | Pedigree | Achievements | Gallery | Progeny
Passia was brought to us from France, in January 1998. She was born in a well-known French kennel "de Teufelsort" belonging to Ms Suzanne Wintermantel, who herself chose the dog for us as the best one in the litter. Passia's father is one of the most famous dogs of that breed in Europe - . Having been born at home Passia now belongs to our family and her puppies are looked after in our home, too.

Passia is characterized by faultless appearance (according to the judges: ellegant, well-proportioned female of good size with excellent, noble head, long neck, straight back and proper lower line, muscles clear and well-defined, with good turn of stifle, remarkable movement - a typical example of the breed) as well as excellent mentality. She is an even-tempered family dog, loving and responsible for her family above all, she is also a wonderful guard without the faintest shadow of unnecessary aggression.
Until now our Passia enjoys good health in its every aspect, and so the litter does. Passia has also medical certificate that she's completely free from dysplasia.